Say chee...argghhh!
Motoring photographer Andy Willsheer from Waltham Cross, Herts, was covering the Auto Club of Southern California NHRA Finals drag race in Pomona, California earlier this month.
"I made a split-second decision that it was unlikely to surmount the wall, but with the possibility of the body coming over took a calculated step back and kept shooting.

"Noting the left rear wheel filling one of the frames as the car went by, it seemed to bounce on the wall before falling back on to the track, landing upside down but, strangely, with the body now perched on top."
That's all very very well, but how the hell does he take photos without getting his fekkin' enormous balls in shot?
More details and description from Andy
here
, I've cobbled the thumbnails together into a simple animated gif.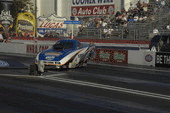 "It wasn't until the action was replayed shortly thereafter on the big screen that it dawned on me that it would perhaps have been more prudent to take two steps back. But c'est la vie."