Ron Haslam Race School
I did the 'Premier Course' at the Ron Haslam Race School. Three twenty minute sessions on the Donnington circuit on a CBR600RR. One instructor for every two customers. It costs £295 which for the habitual trackday rider is going to seem quite dear but it's a different kind of experience.
The typical customer isn't a trackday addict. In the initial briefing when asked what they hoped to get out of the day, '

go on be honest

,

do you want to get your knee down?'

A forest of hands went up. It seems like quite a proportion of customers are using this as a way of dipping their toes into track-riding waters. I was paired with Adrian. He rides a 'blade on the road has never been on a track before but a mate had done the Race School and told him he HAD to do it. Adrian wants to get his knee down. We quickly go through what the flags mean, what to expect and then off to the pitlane to be assigned to our instructors.
Our instructor Paul explains what we'll be doing over the three sessions, and how he'll be using hand signals to communicate with us and to other instructor/rider teams out on track. This way he can move our group offline allowing other teams to safely come by and then smoothly get us back onto the optimum line. Session one starts at a moderate pace with Adrian following and me bringing up the rear. The speed builds smoothly until we're motoring along nicely. Adrian might not have been on track before but he's clearly swift and confident. Paul's monitoring us both in his mirrors and he's also letting other instructors know what we're up to and we smoothly overtake a few teams. Likewise a few teams of Fireblade riders and instructors (one on one instruction on the 'Elite' course) pass us but as long as we follow Paul's lines we don't have to worry about overtaking or being overtaken - the system works really well and with a nice big racetrack and a modest number of bikes on track it all flows very well and we find lots of space to do our thing, we only really got held up for a couple of corners in one session before the instructors worked together to get us through. Mid way through the session Paul indicates that Adrian and I should swap positions and I get to follow.
It's my first time riding Donnington, and I've chosen a very good day. Hot and sunny and I'm having a ball. What a great track! We're going at a decent pace but Paul's doing that annoying Instructor thing of riding one-handed looking back over his shoulder, exchanging nods and waves with other instructors whilst keeping a smooth swift pace through the Craner Curves. Bastard. It's my first time riding a Supersport 600 of any kind but it's a modern Japanese IL4 and just does it's thing. We've been instructed to thrash the life out of it 'it's a Honda so you won't break it'. First impression is Jesus! This thing has NO engine braking whatsoever. Coming off a big twin I'm used to banging down a couple of cogs and hitting a brick wall, on this I just get a sewing machine noise and it runs on into the corner... brakes! Oh yeah must remember to thrash the tits off it. Yes. Now it perks up a bit.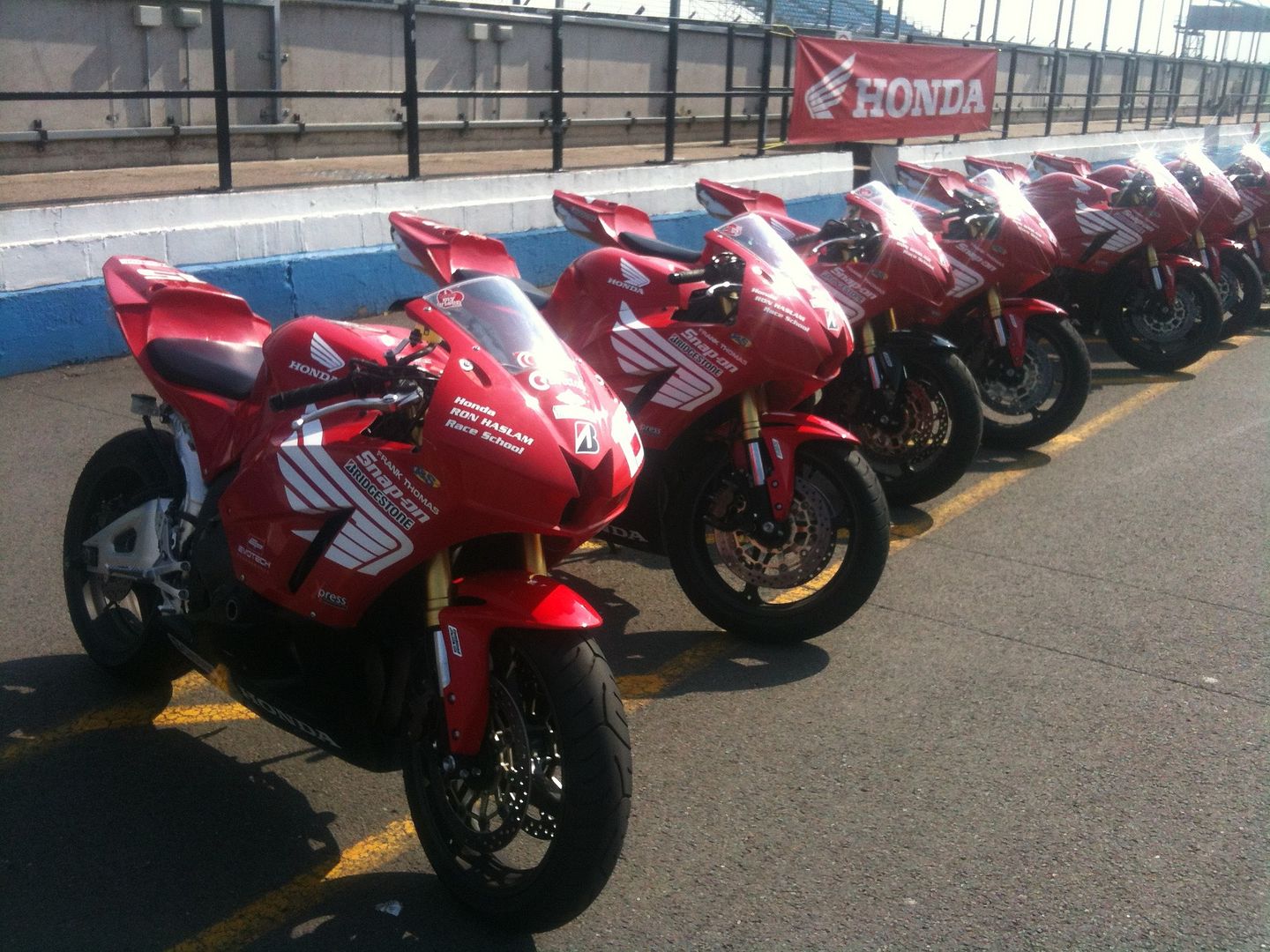 We pull into pitlane and head into the garage for a debrief. Adrian is wide-eyed and beaming, he can't wait to tell us how amazingly good that was. I think we have a convert.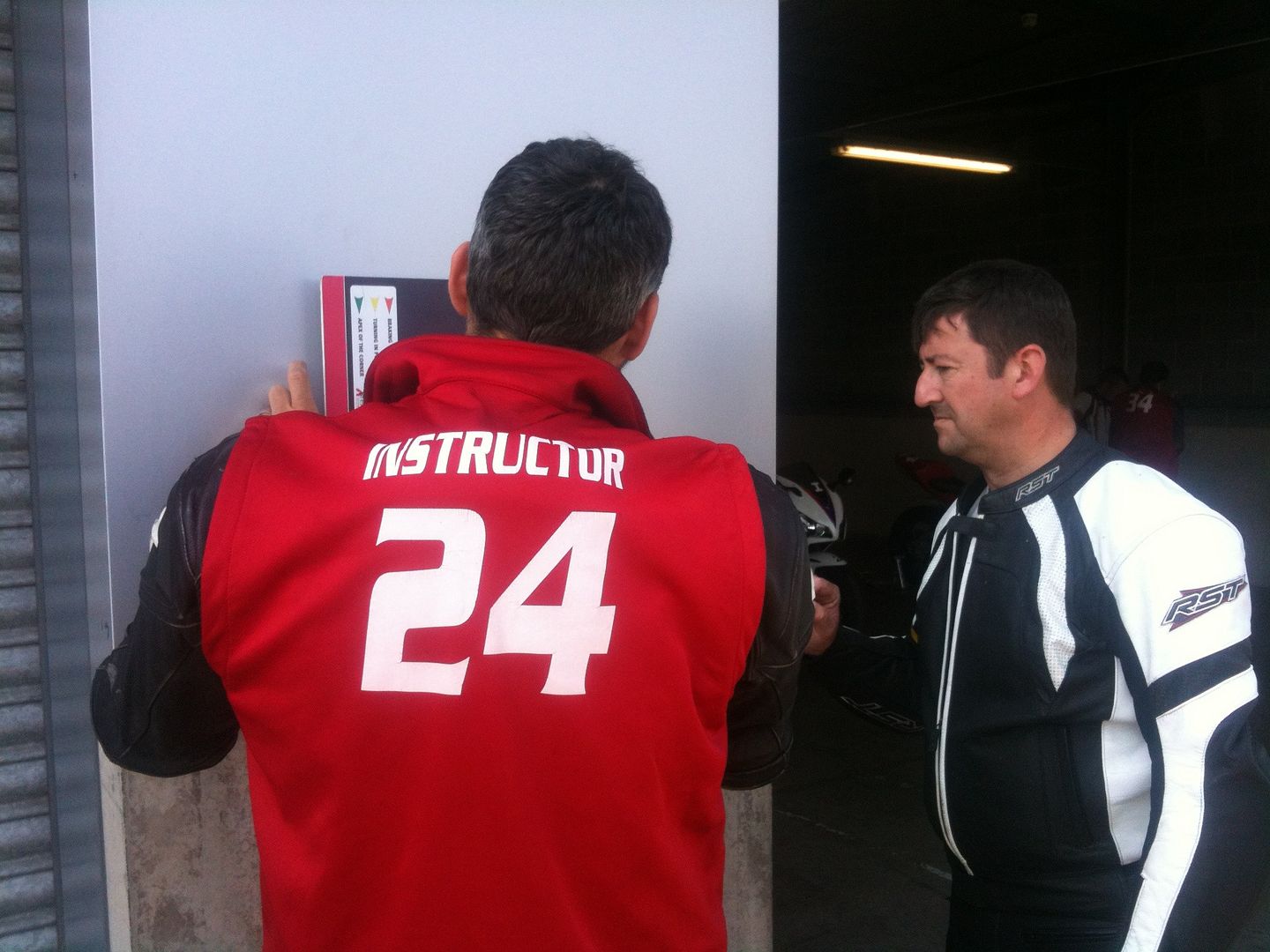 After tips on body positioning, corner entry speed, gear selection and all sorts of useful pointers Adrian's got a head full of things to think about before we go out again. Paul's got the measure of me... 'you live to get your knee down, you really enjoy it but you could actually get the bike back upright on the fat part of the tyre and be going a lot faster out of the corner'. Paul's a racer and for him anything that sacrifices progress is a crime. A crime against speed. Yeah... but it looks awesome...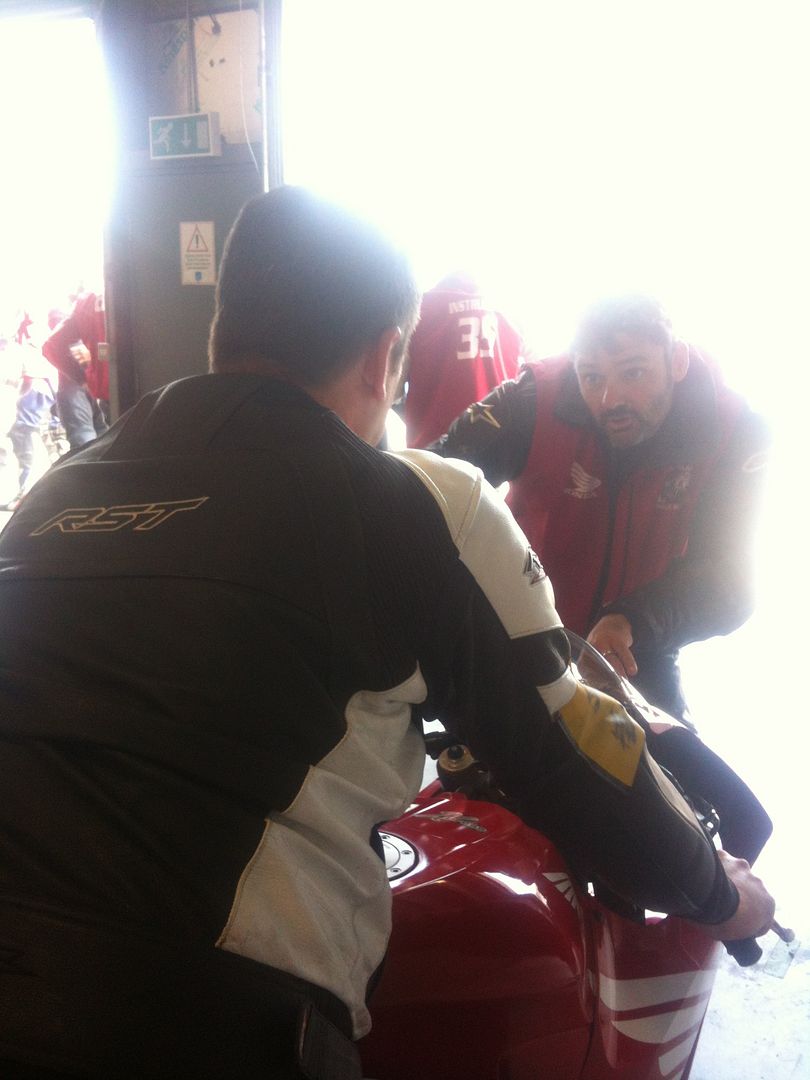 The second session sees us circulating faster and I'm working on some tips Paul has given me for the run down through Craner Curves to the old hairpin. It works! Whould'a thunk it? Several thousand laps of this place and Paul knows a thing or two. Once more Adrian bounds off the bike brimming with superlatives. All the riders now have a final briefing to answer any questions we might have. Clearly this is a useful way for them to manage the our time whilst another cohort of riders are on track but it's all done in a very slick fashion. We drink from complimentary Ron Haslam branded bottles of water.
For our last session Paul has matched Adrian with another instructor and we're out as a pair. We lift the pace, I dig in and see what the Honda has got. It's fast. Very fast, but very wieldable. Extremely sensitive to what gear it's in though. The big twin has made me lazy, it'll drag itself out of corners in a low gear and thump away but the CBR needs to live in a very tight rev range to give it's best. As we go faster I get flustered and start to fluff some corners... wrong gear bouncing off the limiter going in or bogging down coming out... I need to relax, calm down and recalibrate. Still, we're scything past other teams out on track. I get my head together and it really starts to flow. This is superb. All to soon we're back in pitlane.
Adrian bounds over he's beaming again 'I got my knee down!' He's absolutely beside himself and already planning another visit.
From the inital greeting at Reception (the Race School seems to run on equal proportions of grizzled racers and chirpy middle-aged ladies from the midlands in branded swag) every aspect of the day is handled in a slick professional manner. You need only turn up and sign on and you'll be kitted out from head to toe in one-piece leathers, boots, gloves and an Arai lid* then directed towards a fuelled bike. Everything is taken care of. As I mentioned at the start of this ramble inveterate trackday riders might balk at the cost but to be fair when I pondered the outlay in leathers, lids, bikes, fuel, instructors, admin, et al I started to wonder how they make a profit at all. If you want to ride on track but have felt intimidated, or perhaps your bike isn't a typical trackday ride then this could be perfect for you - in the final debrief there were big grins all round and a half dozen proud knee-down neophytes certainly reckoned it a morning well spent. I worried that as a trackday regular I might find it all a bit stage-managed and slow but I enjoyed myself immensely. What a luxury to just turn up at a track, jump on a late model bike and thrash it round a track for a morning. I had so much fun I got back on my bike and thrashed it round Northamptonshire and Buckinghamshire for a couple of hours. A good bike day
*you can wear your own kit if you prefer
Labels: Donnington, Motorbikes, Ron Haslam, Trackday