Pass the Duchy
Prince Charles has been criticised for the way in which he runs the estate which generates his private income. MPs say the way the Prince handles the Duchy of Cornwall creates a potential conflict of interest. Full story

Charles accused of "cronyism" after the Duchy employed his sister-in-law as an interior designer. A Clarence House spokeswoman, said: "

Annabel Elliot is a professional designer. She has been employed for her expertise. We're delighted with the results.

"
Full story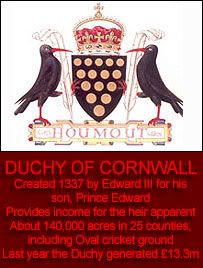 Whether you liked the old firm or not you had to give credit, Liz was a class act through and through, people respect that, even your enemies, especially your enemies. She took care of business and she kept her mouth shut.
When the time comes to step-up what the work experience lad Chuck doesn't understand is that it's a fucked-up inheritance. One day you run things, the next day you run like a dog. It happens that quick, when the long knives get drawn.
It's going to get dark and wild as the good folk try out some new ideas. No-one's quite sure where it ends "
but sure as shit not with me taking a bullet for the ginger one
" is a sentiment that's buzzing round the streets tonight. There's about ten years left for Chuck to do some serious shit, and if it's not enough it'll get ugly. He might think the press are swine right now, but when he's cornered in the palace cellar he'll see what a bunch of hungry pigs are capable of.