Cadwell Park trackday April 14th
A very pleasant Easter Monday was spent rigging up the bikes and getting then onto the massive trailer, kindly loaned by one of Mike's colleagues. His lovely wife generously indulging our burgeoning trackday habit even provided lashings of coffee and bacon rolls.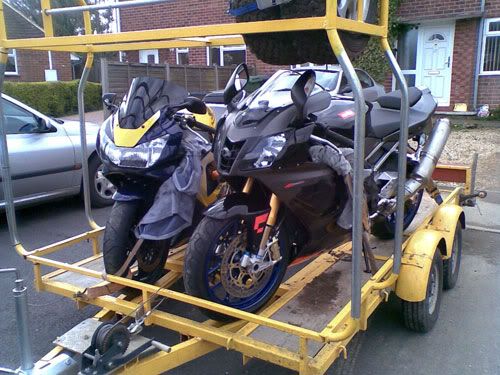 A somewhat nerve-shredding drive saw us arrive whilst the Thunderbikes meeting was still in full flow, so we unloaded the bikes and went for a hoon to Skegness, purely to scrub in new tyres and brakes y'understand?
Camp was set up and we wandered off down the now extremely foggy hill to the local pub for a modest amount of delicious beer.
Dawn broke to reveal wet mist and the mournful croaking of crows. Noisy bastards.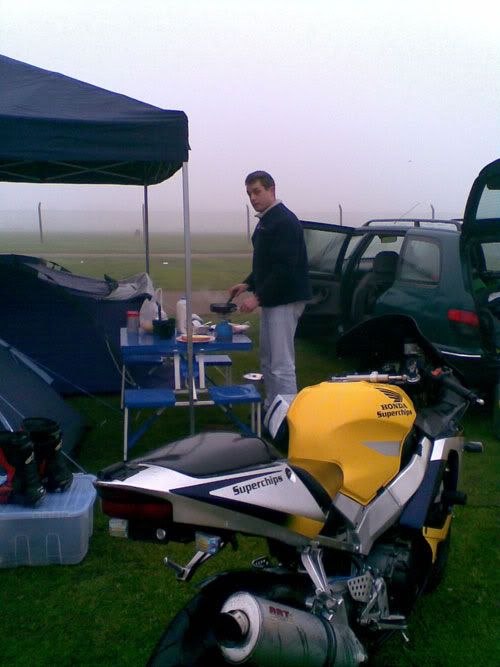 Morning sessions were written off due to the thick fog. I'll try and post the footage of our 3 sighting laps from the morning soon - it's hilarious, absolutely zero visibility and wiping your visor every few hundred yards. An astute move by the organisers to show us just how freakin' dangerous it was... disappointed mumbles from the Paddock but no doubt about the sense of it.
Lunchtime saw the fog finally clear and it was game on, all the way through to the end at 5pm so we only lost two sessions in the end. Happy days.
Cadwell Park 14th April '09
from
driverchris
on
Vimeo
.
What an amazing track, very much a track of two parts; tight and nadgery but also balls out fast. I barely feel like I've scraped the surface of learning it, I merely know which way it goes from my first visit. But therein lies the attraction - I bet I could spend countless days unlocking speed from it, shaving a second here finding a better line there... I'm smitten. If only it was closer. Although if it was 10 mins from home like Silverstone I could see all my income disappearing very quickly.