Birmingham, Alabama?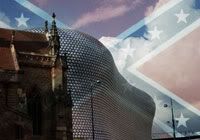 A massive clean-up operation is under way in Birmingham, England after a terrifying tornado devastated hundreds of homes.
Some 20 people were injured when the freak twister - which reached speeds of up to 130mph - ripped through the city's south.
For on-the-spot photo reportage
click here
On Thursday afternoon, people ran in terror as vicious winds overturned cars, tore up trees and ripped slates or entire roofs off properties in the Kings Heath area of Birmingham.
Clever meteorologists, with beards now reveal that in 1931 ago a similar whirlwind struck the same spot. In the nearby Hall Green and Small Heath district. One woman was even killed in her bed by that twister. Some commentators are now describing the West Midlands as Britain's very own "
Hurricane Alley
"
A local resident last night adjusted his trucker cap, ran an unsteady hand through his mullet and described plans to start over. Apparently his brother-in-law has a '
bostin
' caravan in Tamworth, and could do with the '
ackers
' since the car plant closed down.
John Kings, a University of Birmingham meteorologist said
"
A similar sort of thing happened in Selly Oak in 1999, where a funnel cloud took off slates, but nothing like this.
"