Pope my ride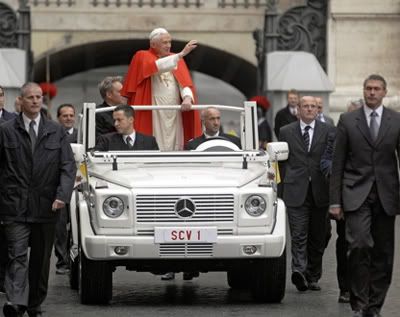 Pope Benedict XVI seen here showing off his latest ride requested for use during fine weather it was developed by Mercedes-Benz on the basis of the G 500. Like its predecessors it is painted in the fabuloiusly named
Vaticanmystic white
finish. The interior is likewise white, and is accessed via steps lined in red at the rear.
Arguably the first leader of German extraction to look comfortable in the back of a large open top Merc in about 60 years the Pope holds his audiences in a standing position, so that he is easily visible to all his flock.
The lack of bulletproof glass marks a welcome return for the concept of faith to the pontiff's ride, although to be fair they used to use a FIAT which must have relied on a certain amount.
The Holy Father is continuing a long tradition with the new Popemobile from Mercedes-Benz. Pope Pius XI was the first to receive a Mercedes-Benz as an official car in 1930 - a Nürburg 460 Pullman limousine.