Fast food
The kitchen area chez driverchris is overdue a makeover, joy unconfined. Spending weekends that I could be on a motorbike in kitchen showrooms, brochures in one hand, offering swatches of formica up to cupboard doors with the other. Kill me now Jeebus.
That is until I came across this bad boy (click for biggety)...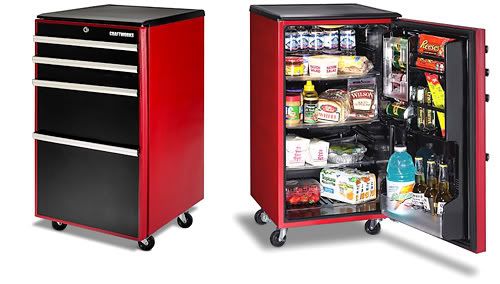 It was in the inimitable words of Wooster as if the scales had fallen from my eyes. There is absolutley no reason why I should go gentle into that good night of boring kitchen design. Rather I should rage, rage against the dying of the light. Thus enthused, I fleshed out my vision.
I'm building a mental picture of interlocking plastic tiled floors, stainless steel worktops and laudable cleanliness.
One of these things instead of a kitchen towel holder. A small red pump-can for applying oils to salads, a neat red snap-on chest for my spatulas and knives, in fact this kitchen pretty much designs itself.
All I need now is to decide which wall Lucy, 24 from Dagenham will gaze down from, benevolently displaying her ample charms.