Woof woof
Breaking News
To coincide with the launch of their new plant there, German tuning house RUF has chosen Bahrain to announce the third generation of the
RUF CTR today
.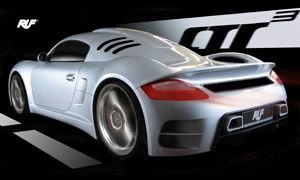 In a break from tradition the CTR3 is based not on the 911, but the mid engined Cayman.
Although the Cayman's styling has enjoyed a mixed reception the RUF treatment looks stunning - lending a previously unseen LMP style to the rear deck.
The twin-turbo 3.8L flat six engine's 700hp is sent to the wheels via a rumoured seven-speed sequential automatic gearbox that's said to allow the CTR3 to reach a top speed of 360km/h.
It looks like it's going to be a real beauty - and may just put a few 911 purist noses out of joint.
The third generation car will struggle to achieve the kind of cult status of the original "YellowBird" CTR.
See the YellowBird fly at the Ring and wonder once more how the driver, Stefan Roser, manages to get cojones that big into a bucket seat.