We're gonna do what they said can't be done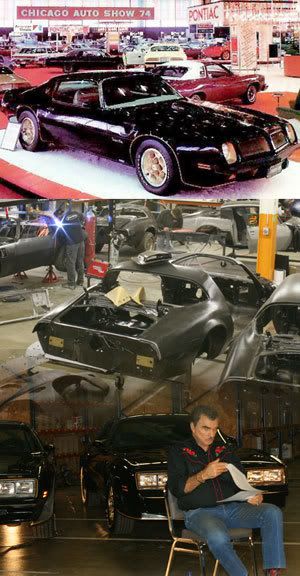 1977 was a good year for cars on celluloid. A young(er) Roger Moore flung a gorgeously sleek new Esprit around Sardinia accompanied by
Marvin Hamlisch's parping disco funk
.
Meanwhilst across the pond Burt Reynolds at the height of his not inconsiderable powers was running interference for Snowman's wagon full of Coors to the sound of
Jerry Reed
.
(btw anybody following those two links who doesn't imediately start work on a driving compilation needs help)
In the eighties the Trans Am had a rep in Blighty as being a bit, well, council. Just like their be-mulleted brethren in dixie the owners knew it might not be sophisticated but you got a whole lot of cubes for your money.
Watching Smokey and the Bandit now - time has treated the Trans Am well. Handsome and muscular with just enough gold bling - it's a winner.
Good news then that
to commemorate it Year One is teaming up with the veteran actor restoring and rebuilding a limited number of Bandit inspired Trans Ams. And they'll be doing a tip top job too.

Do you reckon anybody could do a resto job on Sally Fields for me?