How do you spell insecure?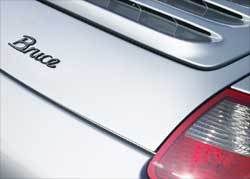 Bloody Porsches, they're everywhere these days aren't they? If only there was a way to make mine more, what's the word I'm looking for, unique? No that's not it, more... crass.
Well now thanks to the good folk at
Name Your Porsche
you can have a personalised badge crafted for your favourite "
Ass-engined Nazi slot car
" in the imortal words of P.J. O'Rourke.
The website has some suggestions - probably a good idea as any potential customer surely wears their lack of imagination quite literally as a badge of honour. Why not make a subtle reference to your yacht, or your favourite make of shotgun? How about '
my third
', or '
thanks daddy
'?
Proof positive that whilst they are the pinnacle of refined sportscar design, for some people a Porsche will remain the ultimate phallic symbol. The penis after all, just like a Porsche Cayenne is ultimately driven by a cunt.