Second?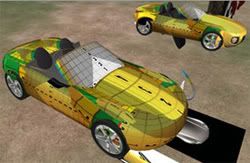 In an announcement that will be heralded by the socially inept and ignored by the demographic typified as "
having a life
", General Motors' Pontiac brand has announced it's opening a
virtual dealership
in Second Life, an on-line virtual world.
Pontiac Spokesman Jim Hopson reckons it's a perfect position for their brand. "
We're opening up the Pontiac experience to a whole new range of Second Life losers, uh, sorry that should say users. You're getting a genuine Pontiac experience
."
Purchasing a Pontiac in the online game will cost actual dollars, and leave you with a vehicle that lacks substance and is worth nothing, whilst harking back to an obsolete technology. And you won't be able to get parts or repairs either.
"
It's a sign that these kind of environments are the future, and it's time people started taking us seriously
" says Second Life user UnicornBow Galady3