Scooby don't!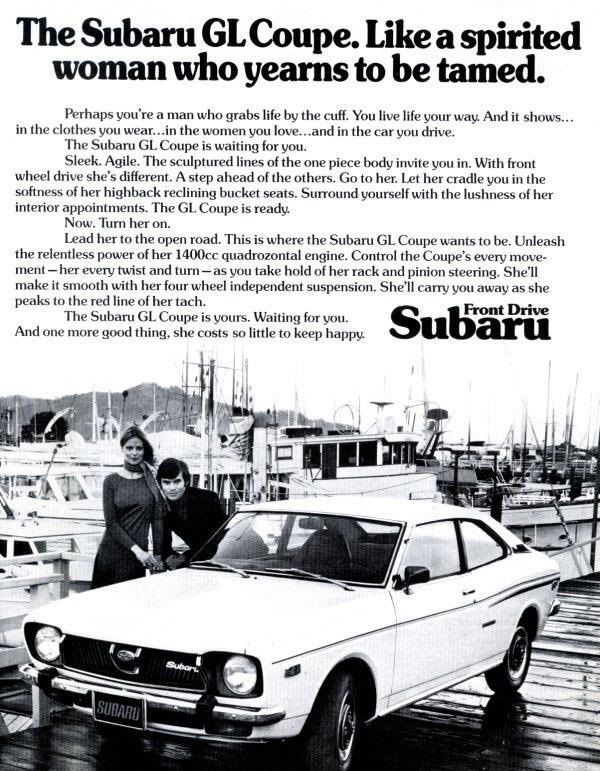 From a global perspective the early seventies was a transitional period for automakers, the balance of power was shifting.
By the end of the sixties the Japanese had the quality of manufacture nailed, no longer turning out meek copies, their growing confidence was evident.
They just needed to catch up when it came to the marketing side of things. Naturally they stuck with a successful technique – imitate the competition.
Unfortunately car advertising was slap bang in the middle of the vouge for macho misogyny when Subaru tried their hand in 1973. Their attempt is unintentionally hilarious. Click on the ad for proof I'm not making this up.
Perhaps you're a man who grabs life by the cuff. You live life your way. And it shows...in the clothes you wear...in the women you love...and in the car you drive The Subaru GL Coupe is waiting for you. Sleek. Agile. The sculptured lines of the one piece body invite you in. With front wheel drive she's different. A step ahead of the others. Go to her. Let her cradle you in the softness of her highback reclining bucket seats. Surround yourself with the lushness of her interior appointments. The GL Coupe is ready. Now. Turn her on. Lead her to the open road. This is where the Subaru GL Coupe wants to be. Unleash the relentless power of her 1400cc quadrozontal engine. Control the Coupe's every movement -- her every twist and turn -- as you take hold of her rack and pinion steering. She'll make it smooth with her four wheel independent suspension. She'll carry you away as she peaks to the red line of her tach. The Subaru GL Coupe is yours. Waiting for you. And one more good thing, she costs so little to keep happy.
Beautiful I think you'll agree.