google "stretch tranny" at your peril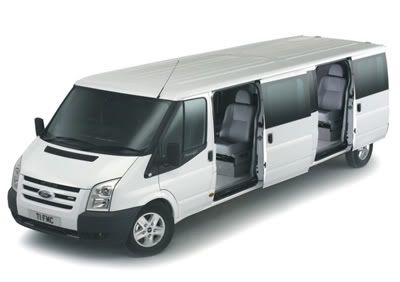 The Transit is named International Van of the Year 2007 and Ford celebrates that with a
special one-off
7.4 metre long model.
The 2500 Kg stretch tranny gets a 128 Bhp 2.2-litre diesel engine, enough to transport a large number of slags – whether it's to do a post-office blag by day or later to a hen party at shaggers nightclub.
Yes the always democratic workhorse that is the Ford Transit. To get even better value from it – print out a picture of it and tell the
Daily Mail
reader in your office that Ford have developed a new model especially so that Polish and Bulgarian plasterers can bring their extended families over to "
soft touch Britain
".
Happy New Year!