The real 24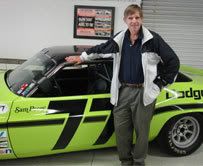 Sam Posey was a racing driver of the old school. It's an unfamiliar idea these days but drivers were not associated with a single race series or discipline, you're a racing driver, you race cars - whatever's paying bub.
In '69, he won the Lime Rock Trans-Am in a factory Mustang. In '70, Posey drove the factory-backed Autodynamics Dodge Challenger in Trans-Am. Enthusiasts rate it as the greatest season in US racing.
Euroopeans are most likely to know him from his exploits at La Sarthe, Posey appeared at the 24 Hours of Le Mans 10 times (1966, 1969-1973, and 1975-1978) and finished in the top 10 five times.
Click through to read his first hand account of driving at Le Mans
during a golden age. There's no doubt in my mind that future generations will document the recent era of sportcar endurance racing as another special time, but Posey's description of racing the NART Ferrari 512 are exhilarating and terrifying in equal measure. There will never be racing like it again, because nobody would countenance such danger.
Pour a glass of a tent-warmed red, or a stubby beer and enjoy.
Several hundred yards before the end of the straight you stand on the brakes - it takes a long time to slow a car from that speed, and while you sit there you feel oddly weightless as the world comes back into focus.

Close your eyes and you still see the road rushing at you; lie down, and the horizon begins to tilt and you become dizzy. You grasp the edge of the cot for balance. "Wake me up in twenty laps," you tell someone; time is no longer measured in hours and minutes, but in laps.

When dawn finally came it was a shock to see the changed appearance of the surviving cars. Even those which came through the night unscathed were stone-blasted and streaked with oil. Racing along, I could smell breakfast cooking over ten thousand campfires.