Def prince of fresh air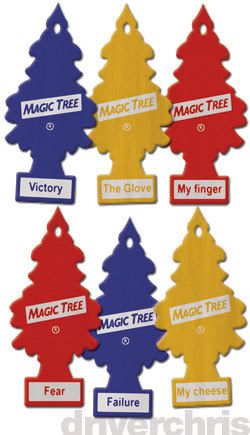 Perhaps one too many hounds has been transported in your ride and there's a bit of a hoy, some air freshening is required. That must be the reason minicabs so often rely on the faithful Magic Tree.
Potent enough to bring a tear to the eye even through the wrapper.
The Magic Tree perfume expert presumably had his sense of smell shot off during the war, he certainly tends towards the robust brassy notes of artificial vanilla.
A colleague tells me they now sell a '
new car
smell
' version, I prefer to submit to the Magic Tree management a slightly more esoteric selection, guaranteed to transport the driver on a Proustian journey even if the motorway is gridlocked.