Style counsel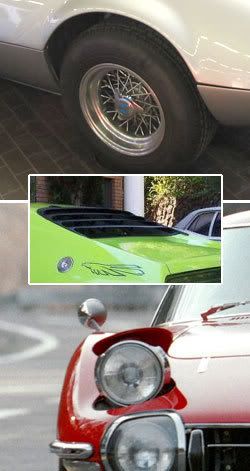 Retro design. Lazy hack styling or a shrewd way to capitalise on a nostalgic market? Possibly both. It can cover everything from a subtle nod to the cognoscenti - with the placement of a styling cue harking back to a classic model, to the Ford GT's wholesale reproduction of the GT40, and all points in between.
Whatever, it appears to be here for the long haul, so until the stylists over at Dearborn MA, Milan and Tokyo are banned from using the photocopier here are a couple of styling features I'd like to see back.
High-profile tyres. Yeah baby. Let the chavs fit rubber bands to their 20inch alloys - that look is over. Nothing says muscle like a 20' rim with another generous 6' of sidewall to go. I'm talking De Tomaso, old school Vantage and Cobra. When you need comfortable ride to destroy a continent.
Black louvred rear windows. Ouch, feel the cool. All manner of US iron and sharp-suited euro sportscars rocked this look . Mark 1 Esprit and Lancia Stratos knew the story.
Nothing said sportscar in the seventies as much as a pop-up headlight, let's erase the memory of the TR7 and it's woeful electrics that often left it looking like a boss-eyed hound (it was). Eight track optional.
Don't get me started on three-spoke drilled steering wheels, yowzah!