Danish hardcore mover
I have a lingering fondness for the El Camino, and when I say El Camino I'm referring to the whole genre of car styled pickup. There's even a subculture of enthusiasts who convert unassuming cars to make Xxxxxamino's [where Xxxxxx is your donor car].
To those uninitiated in the minutiae of vehicle design an El Camino is what (My Name is) Earl Hickey rolls in. And it was a considered piece of automotive casting. The El Camino is the vehicular equivalent of the mullet - business at the front, party in the back. Both mullets and El C's are strangely popular in the Southern states and in Australia, where they are referred to as Ute's.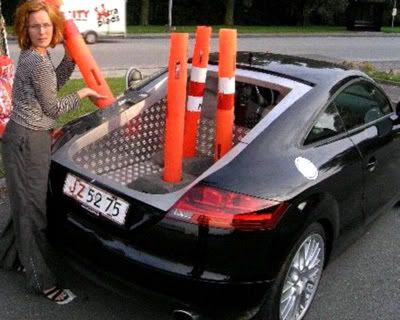 And now it seems that wherever the mullet lives on the car'amino will thrive. Denmark enjoys a taxation system that might be characterised as punitive when it comes to cars. So to get around the tax burden Danes transform cars into pickups liable for a fraction of the taxes.
Audi's official Denmark site lists the 2008 Audi TT Coupe at 637,895 Danish Krones or £60,000 ($120,500)! And that's for the frankly, shit, 2.0 TFSI 6-speed. Expect to pay 805,492 DK for the TT 3.2 V6 FSi.
Mullets and El Caminos. Like poverty they will always be with us.