Green driving hints and tips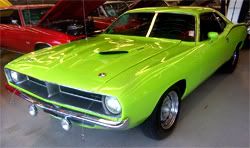 By now we're all aware of a few things that can be done around the house to save precious resources, so in a spirit of collective action can't we all do a little bit too when it comes to our driving habits? Let's hope so
Legal tread depth? Pah! That's just a story cooked up by the shadowy figures who control the tyre trade or '
Big Rubber
' as I call them. Wait till you're down to the canvas.
Stop-start motoring is inefficient. Try and 'time your runs' through roundabouts, junctions, red lights and such to avoid slowing down at all costs. Remember if somebody complains they are, at best a carbon criminal, and probably a terrorist.
You'll have heard about putting a brick in your toilet cistern to save water, why not put a brick in your petrol tank, in fact put two in, it's a big tank.
Remember dad always saying "
turn off those lights, do you think I'm made of money?
". Well it all adds up. Try not to use any lights at all. If it helps cover the engine warning light with electrical tape.
Volovo drivers may be embarrased by their car's 'permanently on' headlights - they can show solidarity by refusing to use their indicators. Ever.